The strategic location of the Port of Algeciras Bay as the sea-bridge between Europe and Africa has allowed more and more commercial traffic to flow between both shores of the Strait of Gibraltar. More than 460,000 heavy goods vehicles pass through Port of Algeciras facilities each year on the lines that connect us to Ceuta and Tanger Med.
RO-RO BERTHS
Quay / Dock
Nº Berths
Draft
Galera
8
-10,5 m
Isla Verde Interior
1
-10,0 m
Isla Verde Exterior Norte
1
-17,5 m
Isla Verde Exterior – Muelle adosado al dique de abrigo
1
-18,5 m
Ingeniero Castor R. del Valle
1
-14,5 m
Juan Carlos I Norte
1
-9,0 m
Juan Carlos I Sur
1
-10,5 m
Principe Felipe
1
-14,5 m
Routes and main locations
1.- How to get with What3Words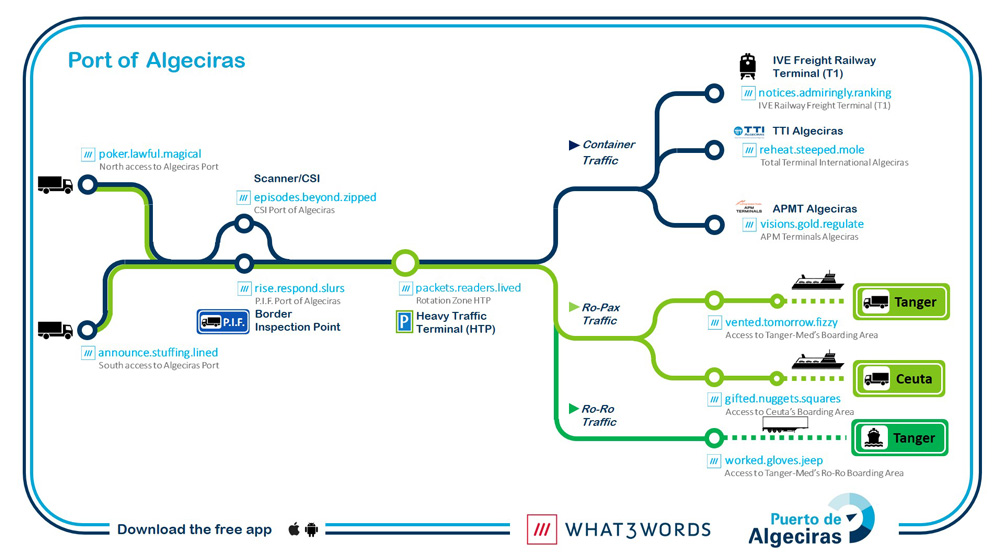 Instructions:
What3Words is a really simple way to talk about location. They have divided the world into a grid of 3m x 3m squares and assigned each one a unique 3 word address. To find your desired destination, simply follow the steps below:
Download the what3words app on the App Store, Google Play Store or go to what3words.com.
Open the app, or the website, and tap/click on the magnifying glass icon, then type the 3 word address (in blue, close to the what3words logo under the format word.word.word

) of your destination.

Click on the result corresponding to your search.
You can now see where your destination is located on the map. In addition, you can navigate to your destination by clicking on the navigation icon at the bottom.
If you need, this video explains you how to navigate to a 3 words address.
2.- How to get with geographical coordinates in Google Maps