The aim of our Heavy Traffic Terminal (HTT) is to provide an enclosed, controlled space that is dedicated to the concentration of heavy goods traffic (semi-trailers and complete loads) that operate within the port premises to encourage optimization of the import-export logistics chain, thus offering added value for both operators and haulage companies.
Our HGV Park is split into 3 different areas with separate sub-areas. The final distribution of spaces, after refurbishment work, is indicated in the following points.
Rotation Zone
This is a public area for any heavy goods vehicle that is waiting to be loaded, embarked, etc., and has not hired the HGV Park's logistics services or that has not been classed as a horizontal transport vehicle.
To access this area, the only thing required is a ticket that can be obtained at the arrival gate, handing it in to the cabin on departure.
This parking area is fitted with:
24-hour surveillance via CCTV.
Rest area: WC, showers, bathrooms, running water and refreshment & snack vending machines
Rotation area parking spaces:
398 long spaces
11 short spaces
8 animal transport spaces
Logistics Zone
This is an area used exclusively by operators with an AV (Added Value) Contract, for semi-trailers and is arranged in sub-areas for import and export units.
To access this area, the operator or haulage company must previously hire the added value logistics service that allows control personnel to identify and assign a load to an operator or customer and then indicate where its designated parking or wait area is.
This parking and wait area is fitted with:
24-hour surveillance via CCTV.
Rest area: WC, showers, bathrooms, running water and refreshment & snack vending machines.
The following added value services can also be provided:
Computerized registry of load arrivals and departures.
Operator notification of the arrival or departure (prior identification of registration plates by the operator).
Location of the standing area of the load
Complete vehicle imaging on arrival at the parking area (front, top & bottom, both sides).
Post-boxes for document submission (free for customers with more than 400 monthly stays).
Reefer recharging area.
Free service area for driver care
Rest area: WC, showers, bathrooms, running water and refreshment & snack vending machines.
Logistics area parking spaces:
6 long spaces
246 long import spaces
279 long export spaces
14 long wait area spaces
8 long reefer spacer
Horizontal Transport Zone
The Horizontal Transport Zone is for equipment that is used in providing services exclusively within the port (Mafi trailers, tractor heads and beds).
Horizontal Transport Zone parking spaces:
34 short spaces
94 long spaces
Continental Parking
Muelle Isla Verde
11201 Algeciras
+34 956 60 37 41
+34 661 856 412
algeciras.camiones@copark.com
info@copark.com
Routes and main locations
1.- How to get with What3Words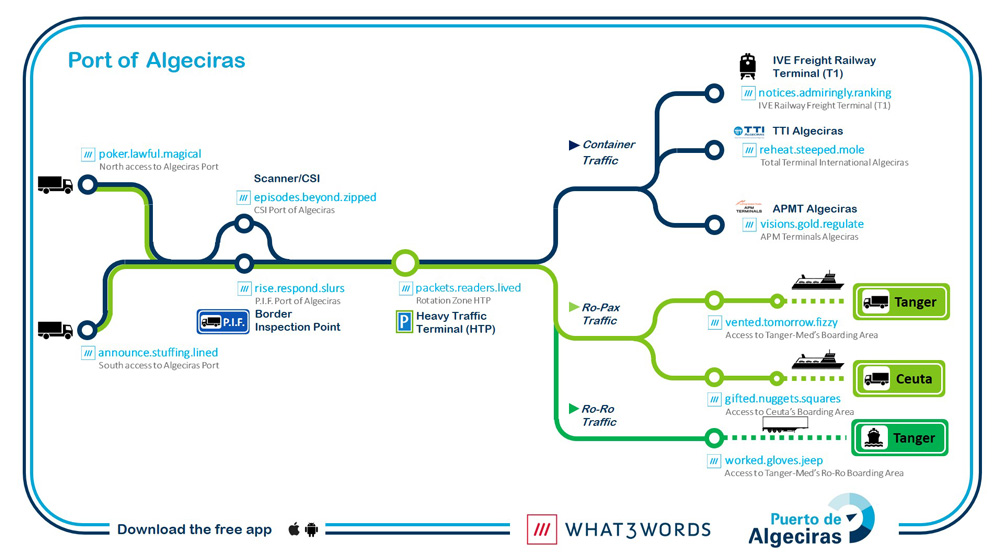 Instructions:
What3Words is a really simple way to talk about location. They have divided the world into a grid of 3m x 3m squares and assigned each one a unique 3 word address. To find your desired destination, simply follow the steps below:
Download the what3words app on the App Store, Google Play Store or go to what3words.com.
Open the app, or the website, and tap/click on the magnifying glass icon, then type the 3 word address (in blue, close to the what3words logo under the format word.word.word

) of your destination.

Click on the result corresponding to your search.
You can now see where your destination is located on the map. In addition, you can navigate to your destination by clicking on the navigation icon at the bottom.
If you need, this video explains you how to navigate to a 3 words address.
2.- How to get with geographical coordinates in Google Maps