As a staging point for the shipping lines that unite Europe, Africa, America and Asia, the Port of Algeciras Bay is the Western Mediterranean's benchmark logistics, marine and port platform. There are two container terminals that currently operate within our facilities:
APM TERMINALS ALGECIRAS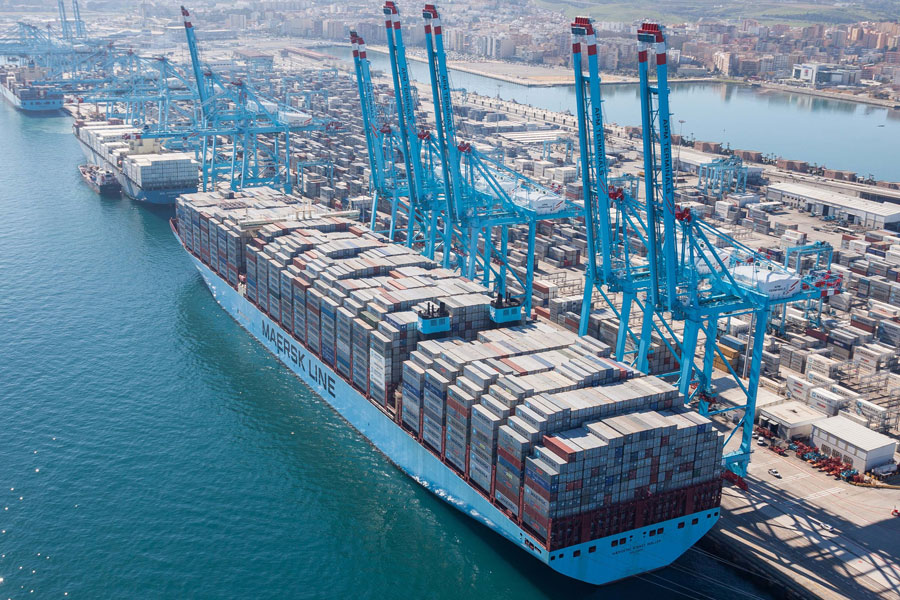 APM Terminals Algeciras occupies a 67 hectare plot on Juan Carlos I Quay, which has drafts of 17 metres. At the moment, the terminal has 19 STS (Ship-to-Shore) cranes – 8 of which are over-super-post-panamax class, 59 RTG (Rubber Tyred Gantry) Cranes and 102 tractor heads.
The adaptation of the Port of Algeciras Bay's facilities to meet the new demands of the container sector under the Algeciras 2014 Project has allowed APM Terminals Algeciras to be able to accommodate the newest generation of 18,000 TEU-plus megaships.
APM Terminals Algeciras
Muelle Juan Carlos I, s/n
11201 Algeciras
+34 956 67 19 00
TOTAL TERMINAL INTERNATIONAL ALGECIRAS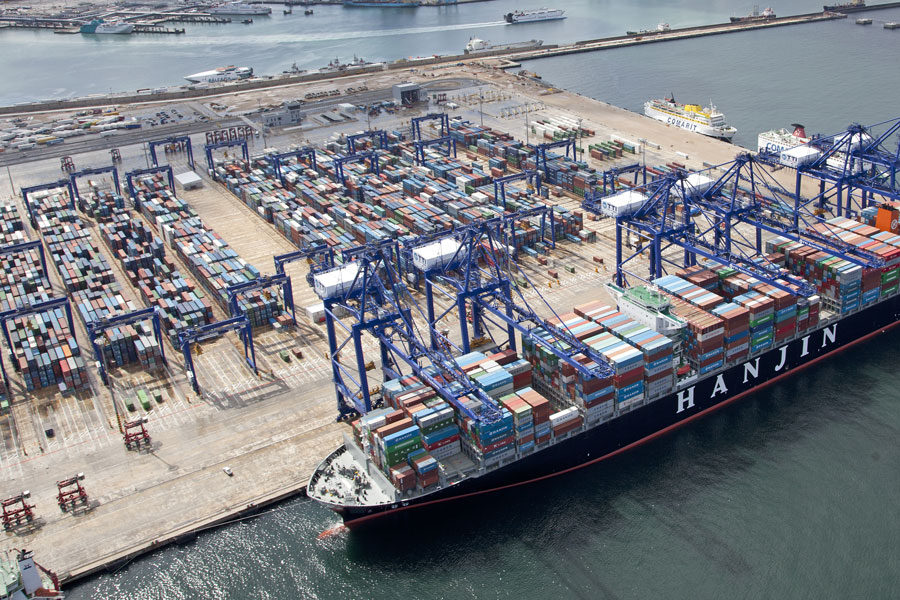 TTI Algeciras, the common-user terminal funded by Korean giant, Hanjin Shipping, occupies a 30-hectare concession on Isla Verde Exterior Quay. It has a 57,271-square-metre public manoeuvring zone, and two quay lines: a 650-metre-long quay to the East and a 550-metre-long quay to the North, with 18.5 and 17.5 metre drafts respectively.
The terminal is fitted out with 8 STS (Ship-to-Shore) cranes, 32 ASC (Automatic Stacking Cranes) on rails and 22 Shuttle Carriers that allows to terminal to service the newest generation of 18,000 TEU-plus megaships.
Total Terminal International Algeciras
Muelle Isla Verde Exterior, s/n
11207 Algeciras
+34 956 02 24 90
info@ttialgeciras.com
Routes and main locations
1.- How to get with What3Words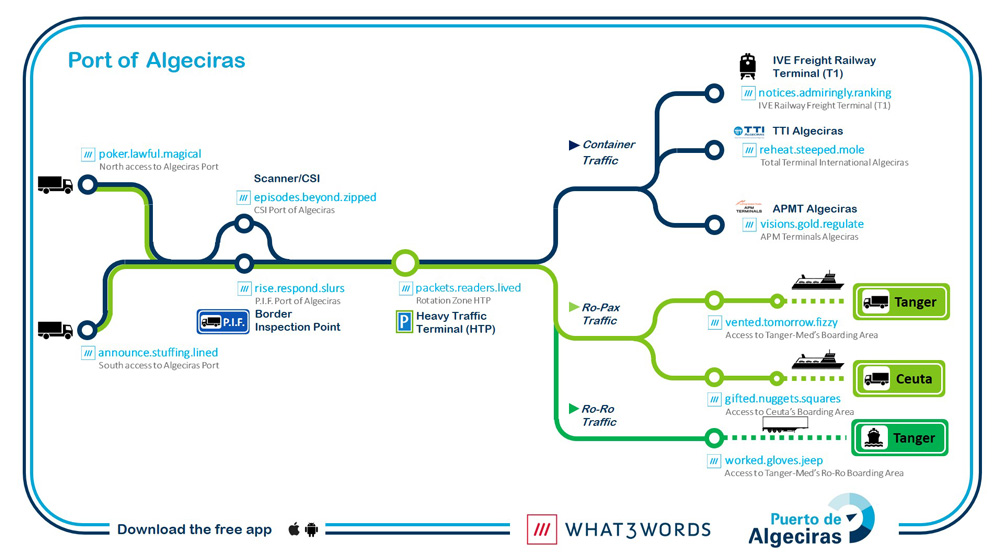 Instructions:
What3Words is a really simple way to talk about location. They have divided the world into a grid of 3m x 3m squares and assigned each one a unique 3 word address. To find your desired destination, simply follow the steps below:
Download the what3words app on the App Store, Google Play Store or go to what3words.com.
Open the app, or the website, and tap/click on the magnifying glass icon, then type the 3 word address (in blue, close to the what3words logo under the format word.word.word

) of your destination.

Click on the result corresponding to your search.
You can now see where your destination is located on the map. In addition, you can navigate to your destination by clicking on the navigation icon at the bottom.
If you need, this video explains you how to navigate to a 3 words address.
2.- How to get with geographical coordinates in Google Maps