The Port of Algeciras cargo health inspection facilities were built in 1996, pursuant to European standards for this type of border facility. Algeciras has the only First Category EU B.I.P. because of its throughput and timetable, and is certified by the EU to import and export all types of products and livestock, cattle, horses and other animals.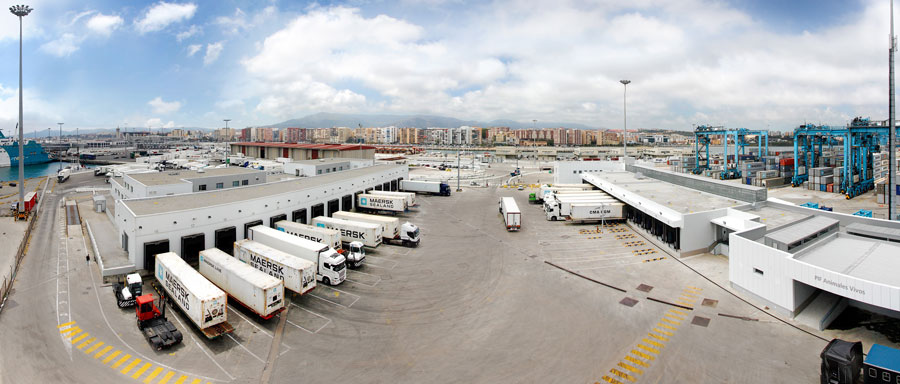 Over recent years, as a result of the vast number of cargoes that need to be inspected and the implementation of the 2006 Exterior Health Service Improvement Programme, staff numbers have risen significantly at the at the B.I.P. Border Inspection Service. It is APBA's aim to provide suitable facilities to speed up the required processing of cargo throughput, resulting in the expansion of our border inspection facility.
New Facilities for POAHC
Exclusively dedicated to Inspections known as POAO-HC (Products of Animal Origin: Human Consumption).
Our new facilities have two basic functions: on one hand, the main function that determines the layout of the building in the BIP inspection of products of animal origin for human consumption (HC), and – on the other hand – a secondary function to house the offices for the Health Area, which is not concerned with product inspection.
The new building covers a 5,100m2 surface area and is designed in four parts:
Operational Area for inspecting products of animal origin, with fifteen unloading bays for HGVs, and six cold stores.
External Health and SOIVRE inspection rooms and laboratories for taking samples.
Changing rooms for External Health, SOIVRE and the Management Agency.
Administration area for BIF Management, External Health, SOIVRE, the Management Agency and Financial Businesses.
The Annexe, where the Health Area offices are located for their work in international vaccines, public health and narcotics. It has offices, laboratories and a customer area with a basement given over to a car-park for official vehicles, a narcotics custody room and auxiliary services.
RAH, Plant-BIP, SOIVRE & NHC-BIP
At the moment and, as a result of alteration work to our old facility (where PDI, NHC, RAH and Plant Products: Human Consumption inspections take place), our operational inspection facility has the following layout:
Administration Building, covering a 924m2 surface area: Customs offices are located on the ground floor; Fiscal Security, Animal Health and Plant Health offices are located on the top floor.
Operational Area, occupying 1,066m2, for undertaking Plant Products: Human Consumption, and NHC, PDI and RAH Animal Product inspections, and is fitted out with:

Operational Area with fifteen HGV unloading bays (10m load capacity).
Three room-temperature stores, three cold stores and two freezer stores.
Offices and inspection rooms for External Health, Plant Health, Animal Health and SOIVRE.

Livestock inspection module (584m2), certified for the inspection of cattle, horses and other animals; with an inspection room and laboratory for sample-taking; 19 stalls (2 farrowing stalls, 8 double isolation stalls and 9 immediate inspection stalls); 101m2 of unloading bays for various breeds of animals; and a 133m2 shaded waiting bay.
Industrial Product Inspection Facility
Our industrial product inspection facility is located in a warehouse close to the BIP, with a surface area of around 1,700m2 and 8 unloading bays for the physical inspection of industrial products – such as car components, textiles, electrical devices and toys – by SOIVRE and Customs, who check their quality and compliance pursuant to EU standards.
CSI & Megaports Initiatives
Next to the BIF facility there is an area used for CSI (Container Security Initiative), an initiative created by the US Government to establish a system of analysing the risk of container traffic bound for the USA.
This area has a scanner unit that can allow the non-intrusive identification, checking and control of containers that pose a high threat to national security. This equipment is also used to control and analyse any HGV or container as required by Customs.
In a similar light, our US Department of Energy-led Megaports Initiative is able to detect radioactive or nuclear materials inside HGVs or containers that transit the Port of Algeciras.
Our Port has Megaports Initiative gateways to detect radioactive substances at all of our container terminal gates, at the access gate of the BIP facility – where the scanner unit is located – and at the BIP operational zone.
Border Inspection Point
Muelle Juan Carlos I, s/n
11201 Algeciras
Management: +34 956 98 90 74
+34 956 63 21 55
Dock Management Agency: +34 956 63 17 36
pifalgeciras@docks.es
Animal Health
Puesto de Inspección Fronterizo, Muelle Juan Carlos I, s/n
11201 Algeciras
+34 956 98 90 88/49
+34 956 63 21 55
sanimal.algeciras@seap.minhap.es
Plant Health
Puesto de Inspección Fronterizo, Muelle Juan Carlos I, s/n
11201 Algeciras
+34 956 98 90 88/49
+34 956 63 21 55
svegetal.cadiz.algeciras@seap.minhap.es
Exterior Health
Puesto de Inspección Fronterizo, Muelle Juan Carlos I, s/n
11201 Algeciras
+34 956 98 90 70
sanidad_exterior.algeciras@seap.minhap.es
Soivre
Puesto de Inspección Fronterizo, Muelle Juan Carlos I, s/n
11201 Algeciras
+34 956 58 74 24
+34 956 63 19 81
algeciras.dp@comercio.mineco.es