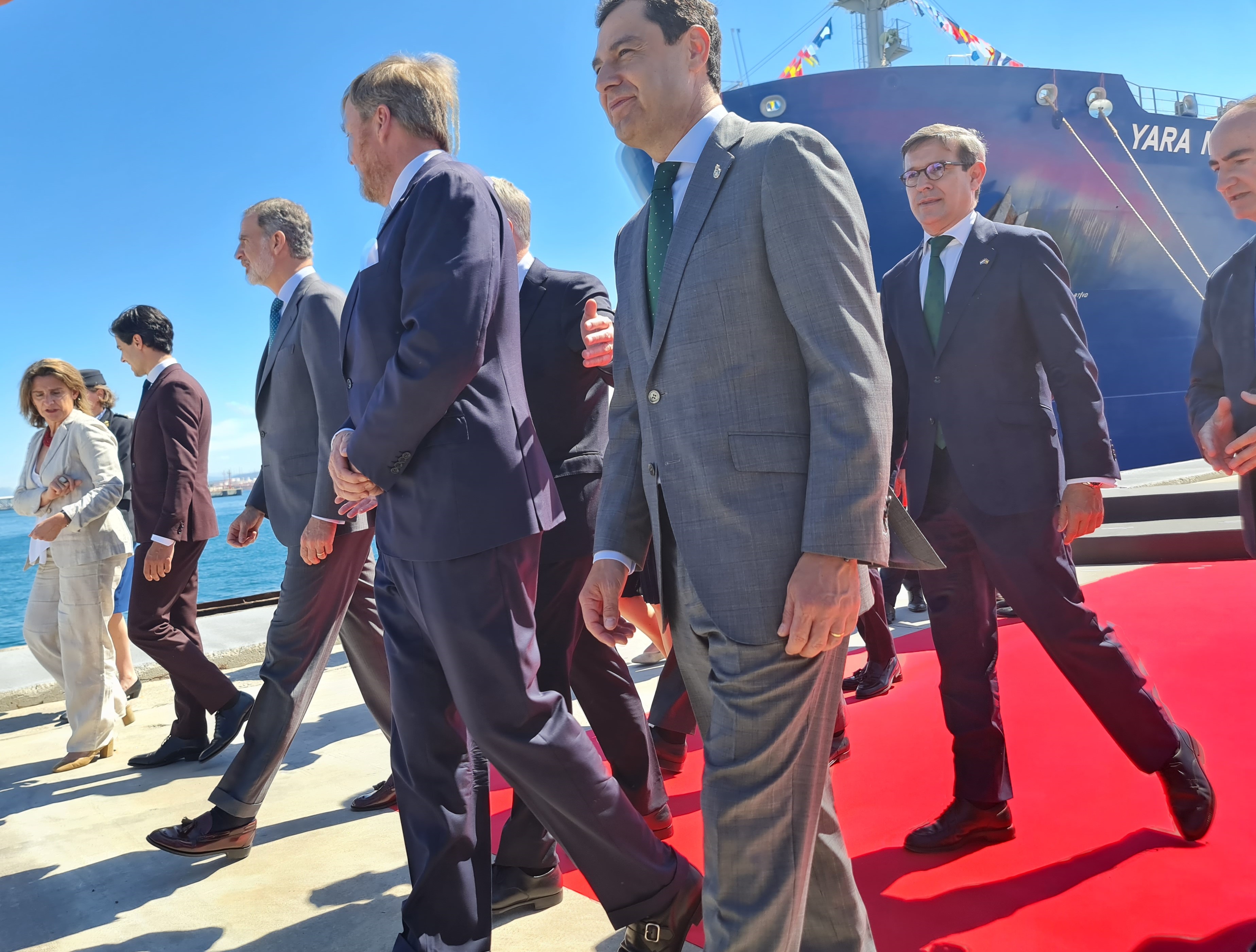 HM King of Spain – Felipe VI – and HM King of the Netherlands – William-Alexander – have taken part in a ceremony, together with authorities from both countries and European business leaders, on Isla Verde Exterior Quay at the Port of Algeciras today to lend their backing to energy interfaces as an accelerant to energy transition and assurance towards the independence of Europe's energy supply.
The monarchs attended the underwriting of agreements between Cepsa and the European multinationals Yara and Gasunie, with the key aims being to promote the first green hydrogen sea corridor linking the North and South of Europe between two of the continent's leading ports: Rotterdam and Algeciras.  The corridor is set to create a renewable energy supply chain to help reduce the maritime industry and transportation's carbon footprint by connecting Green Hydrogen Valle Andaluz – headed up by Cepsa – with the Netherlands, a country with one of the highest energy demands in Europe.  On arrival at the port of Rotterdam, green hydrogen can be distributed by pipeline to reach a huge number of industries located in the northern and central areas of Europe.
Besides the Kings, the ceremony was also attended by the Spanish Minister for Ecological Transition – Ms. Teresa Ribera; the Netherlands Minister for Climate & Energy Policy – Mr. Rob Jetten; the President of Andalusia – Mr. Juan Manuel Moreno Bonilla; the Manager of the Port of Rotterdam International – Mr. René Van der Plas; and the Managing Director of Cepsa – Mr. Maarten Wetselaar, who asserted that:
"…we should move towards guaranteeing the independence of Europe's energy supply, as well as making our energy system carbon neutral… we should all row in the same direction if we want to enjoy the benefits of more accessible, clean energy to leave a better world for the coming generations.  Spain – and Andalusia, especially – has a great opportunity to lead the way with energy transition by decarbonizing its industry and transportation here, and – at the same time –export sustainable energy to the rest of the continent."
Within the framework of the Green Hydrogen Valle Andaluz project, Cepsa also has plans to open a green ammonia plant at its San Roque Energy Park, with a proposed yield of up to 750,000 tonnes per year.  This would avoid annual emissions of around 3 million tonnes of CO2.
The facility – projected to be the largest green ammonia plant in Europe – will be operational in 2027.  With an investment of €1,000 million, it is set to create 3,300 direct, indirect or derived jobs.