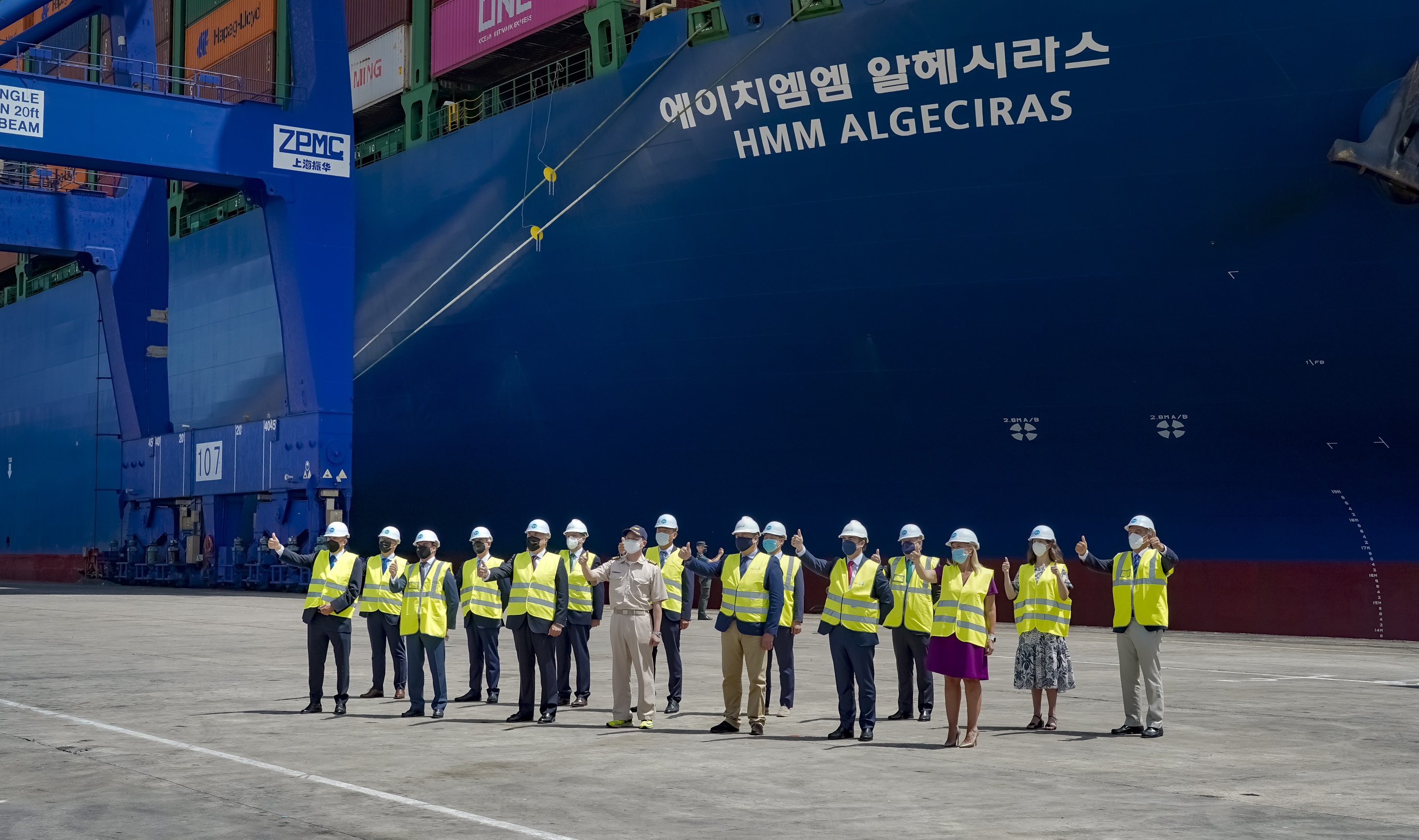 The world largest containership, HMM Algeciras, called the port that gives its name to the ship on Friday 30th of July for the first time. Coming from Antwerp, the first of the megaship series known as Algeciras Class Container Vessels called the semi-automated container terminal TTI Algeciras, located at Isla Verde Exterior. A delegation received the ship with full honours, handing a commemorative plaque to the HMM ALGECIRAS Master.
HMM Algeciras operates the THE Alliance Asia-Europe FE4 Service (HMM, ONE, Hapag Lloyd and Yang Ming), linking directly ports of South Korea, China and North Europe to the Port of Algeciras since July. FE4 Service is operated by the new giants of the sea, with a total of 23,964 TEU capacity, a length of 400m and a width of 61m.
During HMM Algeciras welcome ceremony, TTI-A CEO, Alonso Luque, confirmed the investments being executed in the terminal in the last weeks in order to provide it with a greater capacity to operate 24,000 TEU vessels. Among other improvements, it is worth remarking the heightening of 5 STS cranes of a terminal that attended a total of 72 megaships last year –being considered as such, only those container ships above 175,000 GT and/or a capacity to carry between 16,000 and 24,000 TEUs-.
Transhipment, strategic factor
During the welcome words of the Port Authority Chairman (APBA), Gerardo Landaluce, the emphasis was put on the global maritime connectivity the Port of Algeciras has achieved in less than a decade with 25 shipping lines offering regular services to 75 countries and 200 ports worldwide. This shipping network has been attained thanks to the transhipment, which Landaluce highlighted as "strategic". In this sense, he remarked that the role of transhipment has to be put in value "because whoever controls transhipment, also controls the logistics chain and, in the case of the EU, this strategic factor cannot be left in the hands of third party interests".