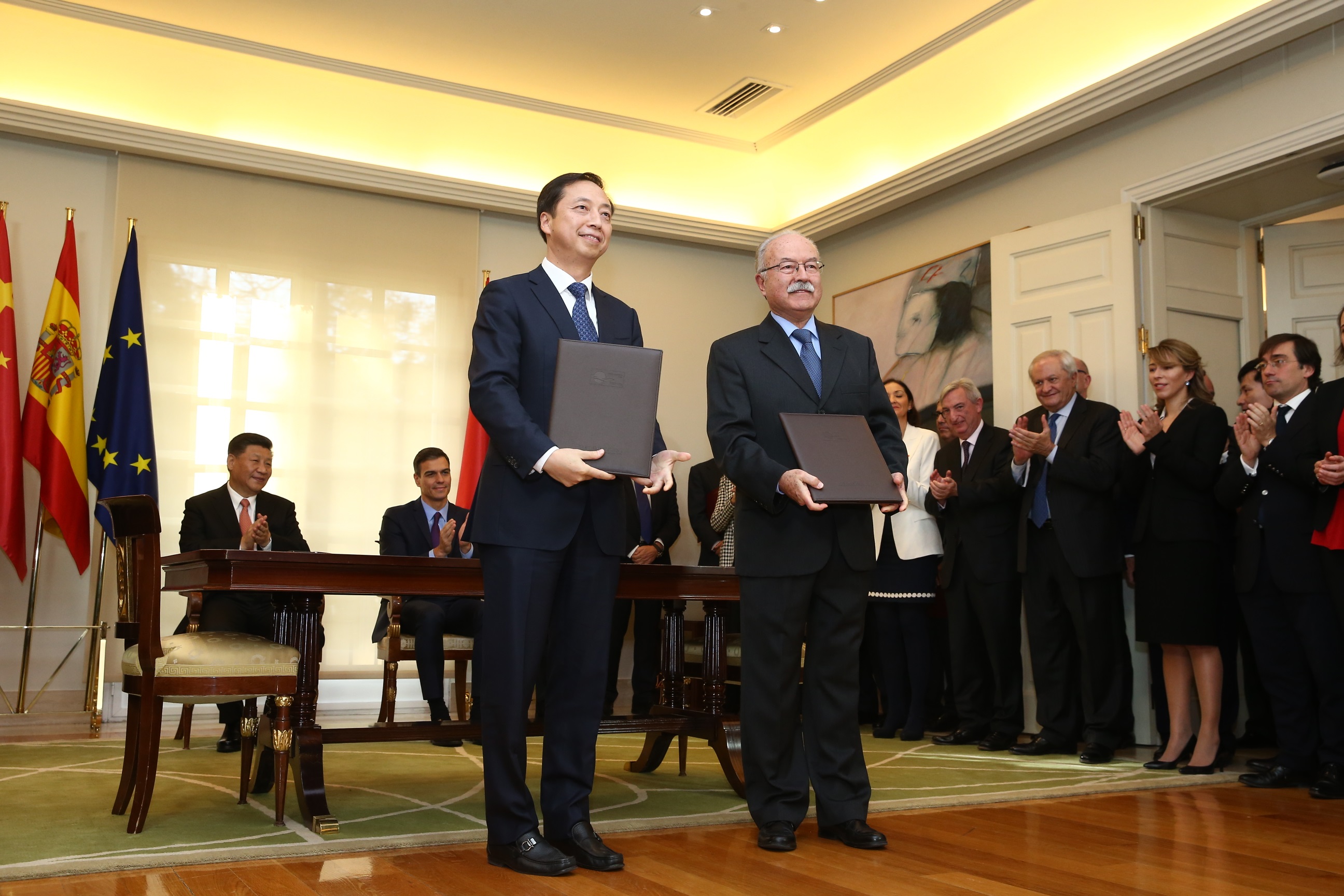 The Port of Algeciras Authority (APBA) Chairman, Manuel Moron, and the Ningbo Zhoushan Port Group Chairman, Mao Jianhong, signed a Memorandum of Understanding at the Moncloa Palace that is set to formalize co-operation between both of the logistics powerhouses and increase commercial flow between Southern Europe and Asia.  The M.o.U. was rubber-stamped during the official state visit to Spain of the Chinese President, Mr. Xi Jinping, who - together with the Spanish Prime Minister, Mr. Pedro Sanchez - was present at the event.
The relationship between the two ports is very close.  During the year, several meetings have taken place, notably the visit made by a Ningbo Port delegation to the Port of Algeciras  in February and a trade mission by companies from the Port of Algeciras to Ningbo in May.
The Memorandum thus formalizes this relationship and its aim is to strengthen maritime ties between China and Southern Europe, with the ports of Algeciras and Ningbo Zhoushan being the global logistics hubs serving this link.  The document also includes a know-how exchange on the subjects of sustainable port development, port-city relations, smart port infrastructure, port security and commercial strategy.
Apart from their huge throughput volumes and ability to accommodate megaships efficiently, the Ports of Algeciras and Ningbo are positioned as two of the largest basins on the world stage that have recorded the biggest growth in terms of connectivity.  At present, the two are linked via the shipping alliances between 2M and Ocean Alliance that provide a 23-hour sailing without transhipment.  Over the last 8 years, the Port of Algeciras container terminals have witnessed a 145% growth in full container import-export throughput with China.